Invest on high quality brushes.
If there's one thing an aspiring makeup artist should have, it definitely has to be good set of brushes.Doing makeup does not only rely on makeup and skills, but you also need the right tools in order for you to achieve perfection ;) Speaking of perfection, lo and behold: my very own CHARM PRO 21 PC MAKEUP BRUSH SET!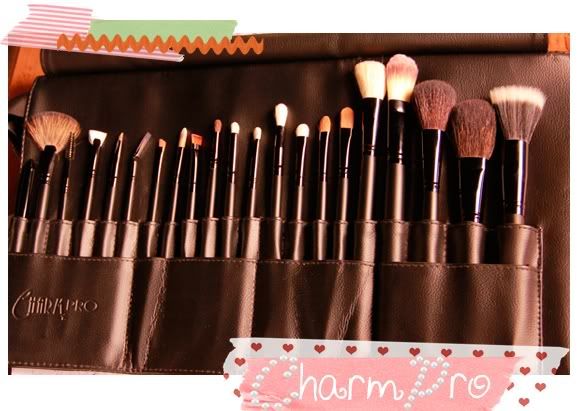 It's so pretty i'm about to cry. lol.
After a year of wanting/obsessing to have these brushes i finally gave up and bought this for myself. Ever since i bought my charm kabuki brush, i have always been a fan of
Beauty&Minerals
p.s. the kabuki brush i bought last 2009 is still alive and i'm still using it every single day. talk about superb quality!
So What's Included in the brush set ?
1. Dual Fibre Brush
2. Large Powder Brush
3. Small Powder/Blush Brush
4. Foundation Brush
5. Angled Contour Brush
6. Concealer Brush
7. Wet/Dry Eyeshadow Brush
8. Eye Shader Brush
9. Tapered Blending Brush
10. Angled Shading Brush
11. Pencil Point Brush
12. Precise Crease Blending Brush
13. Flat Liner Brush
14. Precise Concealer Brush
15. Angled Liner/Brow Brush
16. Bent Liner Brush
17. Eyebrow Defining Brush
18. Mini Fan Brush
19. Brow Spoolie/Lash Brush
20. Fan Brush
21. Retractable Lip Brush
Wrap up :
What i
LOVE
:
-brushes are super soft
-it doesn't scratch my face. most especially the powder brush which i loooove :)
-long handles are black including the ferrule. definitely has that professional look.
-doesn't shed at all. i have been using this set for almost a month already and i haven't seen major shedding, just minimal after the first wash.
-the set has everything that i need
-brushes have good product pickup
-doesn't bleed
-brushes stay/look the same even after washing
What i
DON'T LOVE
:
-NONE, really, i love every single brush in this set.
So when i opened the brush roll i was like, waaaait a minute i haven't seen any reviews saying that this set includes a brush belt! talk about savings!:) I was so stoked about it i immediately thanked
Sophie
(owner of
Beauty&Minerals
+ the girl behind these amazing brushes) and she told me that the brush belt was actually a surprise and a revamp from the old brushroll that this set has. so i'm guessing it won't be a surprise for long. haha.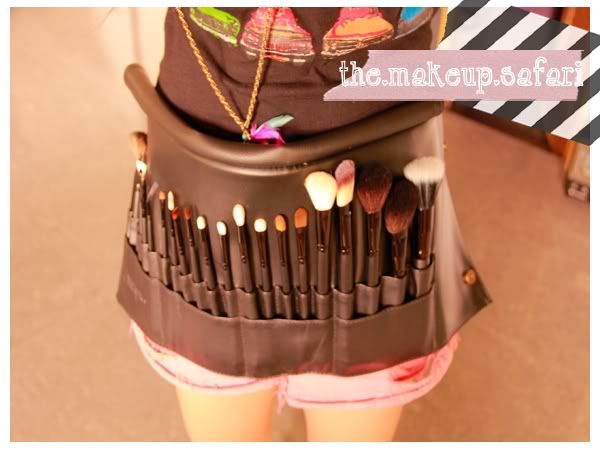 In my opinion, you don't really need to buy expensive brushes as long as you can find one that has good quality, at the end of the day the tools you have doesn't really define you as a great makeup artist, it's still the hard work and dedication you have towards the craft that makes you a good one.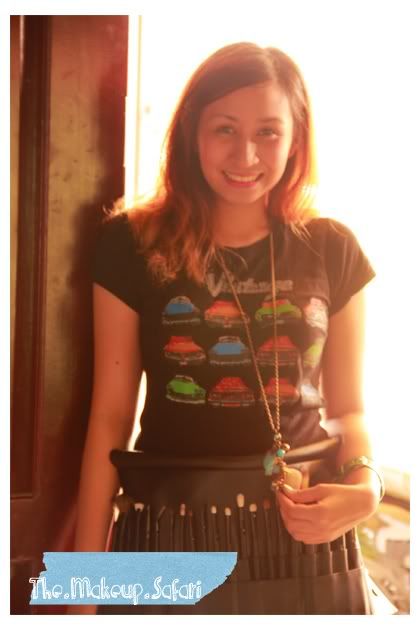 Happy Kid!:)
Final Verdict :
5/5. Perfect Score. I simply can't say anything bad about these brushes. Definitely worth your hard-earned money. I'm now a PROUD momma of these babies!
So Where can i buy these Amazing Brush set? :
- Bought it from the very lovely Sophie Uy from
Beauty&Minerals
for 3450php + FREE SHIPPING :)